The 3rd International Conference on the Environmental and Technical Implications of Construction with Alternative Materials.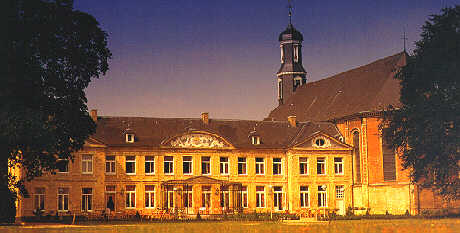 Conference location
International Conference: WASCON'97
Location: Houthem - St. Gerlach (NL)
Date: 04-06 06 1997
Organization: ISCOWA
Proceedings are published by Elsevier Science Publishers, Amsterdam, in Studies in Environmental Science Nr. 71.
WASCON'97 participants will recieve this book in December 1997. You may also take a look at the Conference Programme of Wascon'97.
All WASCON'97 participants should have recieved the Elsevier's WASCON'97 proceedings by now. If you have not recieved them by now, you are kindly requested to send a notifying message to the secretariat.
Selected papers of Wascon 1997 will be published in a special issue of Pergamon's journal "Waste Management". A special strongly reduced subscription price applies for members of ISCOWA. More information on current subscription rates (and information on how to become a member of ISCOWA) can be obtained from our secretariat.
ISCOWA-members may access the participants-list. For access to the list you must enter the ISCOWA-password, that is mentioned in the last paragraph of ISCOWA's New Year Letter (has been sent to all ISCOWA members on Dec. 21, 1998). If you have not received this letter, please ask our secretariat.
Last revision: 8 February 1998


1. Organisational Aspects.
2. Scientific Summary
2.1 Plenary opening
2.2 Workshop on MSWI-byproducts
2.3 Demonstration Projects
2.4 Harmonisation of Leaching Testprocedures
2.5 Construction raw materials from Coal fired Powerstations.
2.6 Concrete applications.
2.7 Modeling of leaching/laboratory field relations.
2.8 Re-use as raw materials.
2.9 Soil leaching and organic leaching.
2.10 Quality Control and Certification.
2.11 Immobilization.
2.12 Policy and Economy.
General Conclusions


WASCON'97 was visited by over 180 delegates from Europe, Eastern Europe and other countries (Belgium, Denmark, France, Germany, Italy, Spain, Finland, Sweden, Norway, the Netherlands, England, Yugoslavia, Poland, Canada, Japan and the USA).
From most countries also delegates presented papers. In total 100 papers and 25 posters have been presented. Various topics were presented in topic orientated workshops, running in three parallel sessions.

return to top of page or contents

At WASCON'97 various themes have been presented in topic orientated workshops, running in three parallel sessions. In this synopsis the most interesting results per theme are presented.

return to top of page or contents

2.1 In the plenary opening Dr. M Quevauviller gave an outline of the EC SMGT programme and indicated the importance of research leading to harmonisation and standardisation.
Mr. Ch J. Nemmers presented the results of a OECD study on recycling for road improvement. He concluded that it is of utmost importance, in terms of realisation of market results, that cooperation between parties (research, demand and supply) is improved significally.

return to top of page or contents

2.2 In the workshop on MSWI-byproducts the state of the art regarding various techniques for the treatment of by-products was presented. It can be concluded that for bottom ash, by making use of quality systems, application in road construction is a growing market. Several methods to improve environmental quality, either by treatment with chemicals or by sintering, are being developed. For MSWI-fly ash procedures like melting and vitrification are being developed.

return to top of page or contents

2.3 Demonstration Projects
Compared to the total amount of papers presented, the scientific committee noticed, that in this workshop relatively few papers were available. This might indicate, that more effort is needed to stimulate industry to use by-products. Results from the cases presented indicate that, based on available data from technical and environmental research, application of various by-products is feasible. Mr J. van Leeuwen (Public Works Rotterdam, The Netherlands) presented a practical scheme for project development, taking into account all aspects required for projectplanning and realisation.

return to top of page or contents

2.4 Harmonisation of Leaching Testprocedures
In this workshop results were presented of an international project, supported by EC DGXII SMT, on this problem. Project results have been published in Elseviers Studies in Environmental Science (issue NR. 70). The most important conclusion is the fact that pH can be used as a common basis of reference for the leaching behaviour of inorganic constituents. This is a major step in the process of harmonisation, whereas additional work has to be done regarding the relationship between laboratory generated data and field information.

return to top of page or contents

2.5 Construction raw materials from Coal fired Powerstations.
A comprehensive overview of the state of the art regarding powdercoal fly ash in the Netherlands was presented. This can be looked upon as a clear example of how to direct research and development towards application and marketing. The main conclusion is, that by-products can indeed become construction raw materials and supplied to the market under certification, both technical and environmental, via a quality control system. This case clearly demonstrates, that recycling of by-products can be environmentally and economically beneficial and is thereby an example for other materials.

return to top of page or contents

2.6 Concrete applications.
Various papers gave data about the beneficial properties of cement in which fly ash from several sources was used. Application of these cements in concrete resulted in products of technical good quality and showed strong retention of inorganic constituents. As was concluded in the workshop on harmonisation, the pH in these systems is supporting retention.
It can therefore be concluded, that the cement/concrete system is, in terms of environmental aspects, one of the major procedures to recycle by-products. The industry has to be stimulated to increase activities on this point.

return to top of page or contents

2.7 Modeling of leaching/laboratory field relations.
Development in modeling of leaching is fast, indicated by the fact that most of the recent work is aimed at the application of models for predictions and simulations. Based on previous research work and available data-bases, simulation models have been developed. Verification of these models with field experiments is in progress.
Together with the results from field studies and the reported work on harmonization, it is concluded, that environmental aspects with respect to the re-use of secondary materials in various applications, can be calculated and simulated in an adequate manner. The general conclusion from studies on laboratory-field relations is, that available research data support the view that re-use in an environmental acceptable way is feasible e.g. in applications like road construction and solidification systems. However, more work on verification and standardization is needed to further improve quality and to construct user oriented models.

return to top of page or contents

2.8 Re-use as raw materials.
In this workshop research results were presented, showing that all kinds of by-products can be processed or used directly in construction materials. Generally, when used in concrete as substitute of one of the mixture components, technical good products are obtained. Due to the concrete system also the environmental performance is good. It can be concluded, that in these cases industry needs to be stimulated to accept more of these materials in their production processes in order to support sustainable development.

return to top of page or contents

2.9 Soil leaching and organic leaching.
Presented research results indicate, that knowledge from previous research from other fields, can be applied successfully to soil systems. Leaching test procedures are now used to investigate the effect of solidification of contaminated soils. This leads to the conclusion, that using these tests it is possible to optimize procedures like thermal treatment. Compared to the knowledge of leaching of inorganic components, the knowledge of organic leaching is rather poor. To stimulate the re-use of sieve sand from demolition waste or of contaminated soil more research needs to be done. This is also clear from the fact, that development of models for these cases is only beginning. International co-operation and preparation of standards is necessary.

return to top of page or contents

2.10 Quality Control and Certification.
The main conclusion from this session is the fact, that, at least for inorganic components, leaching test procedures and available models are applicable in certification schemes. Mr F. Lamers (KEMA, The Netherlands) presented a clear case of environmental certification of bottom ashes from coal fired powerplants in the Netherlands. Mrs L. Heasman (M. J. Carter Associates, England) indicated that transfer of know-how to potential users is very important. A well set up training programme is very useful in this respect. The conclusion is that this type of activities needs further stimulation, also in the EC. A conclusion in line with the suggestion made in the plenary opening.

return to top of page or contents

2.11 Immobilization.
In this session current methods for stabilisation like inorganic stabilisation with cement or vitrification, were presented. In addiction, current procedures in e.g. The Netherlands, France and Northern America, were high-lighted. From these aspects it is concluded that immobilisation / stabilisation is a fast developing area. In many countries, mainly for contaminated soil and waste materials for which no other process is available. In these cases environmental improvement is the driving force. The main conclusion, based on presented research data, is, that cement-based solidification processes are very promising. Environmental studies indicate a good long term performance, based on model results. In order to stimulate application of developed techniques, field experiments and demonstration projects need to be stimulated. This is also necessary in order to obtain guidelines and to derive legislation, aspects needed for a real break-through.

return to top of page or contents

2.12 Policy and Economy.
Results presented in this session, taking into account also relevant papers from other sessions, lead to the overall conclusion that, although in general re-use is a policy goal, this is not enough driving force for the realisation of a major break-through. On the other hand it is clear from technical and environmental papers presented at WASCON'97, that profound progress has been made. This leads to the conclusion that re-use of secondary materials still needs to be stimulated by governmental measures. Environmental economics, as presented by A. Craighill, England, support this conclusion. Furthermore it is necessary that standards and guidelines are being developed to support the application of secondary materials in the construction industry.

return to top of page or contents

From the presented work on environmental aspects it can be concluded, that leaching data for materials, models and testing procedures are generated, which form a good basis for quality control and certification, at least for inorganic components. The next step to be taken is to stimulate the industry to make use of this know how. Legislation can support this process. Further improvement can be reached by harmonization and the development of standards. For organic components more work has to be done, but much can be learned from previous research.
Important is the transfer of this environmental and technical know how to all parties involved in the implementation process. This point needs stimulation.

return to top of page or contents